The beginnings of Mt. Zion Lutheran Church go back to the late 1950's when the members of Grace Lutheran Church, with support from the Colorado District, Lutheran Church – Missouri Synod, decided to start a new mission church in North Boulder.  The District was able to purchase 15 building lots for $33,000 at 16th & Balsam.  The congregation was formed and began worshiping temporarily at Howe Mortuary.
In September, 1956, Rev. Fredric Rhode was installed as the first pastor.  Most of the 85 members of the congregation were transfers from Grace Lutheran.  That same month, the congregation elected officers and officially called itself Mount Zion.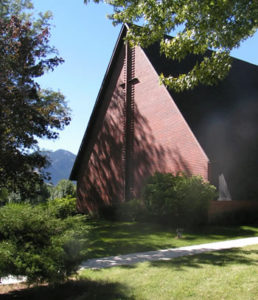 In April, 1957, ground was broken for construction of the new church.  The building was finished in less than a year and by the time of its dedication in February, 1958, the congregation had grown to 364 members.  In 1961, 12 Sunday School classrooms were added in the first of several building expansion projects. In that same year, Mt. Zion became a self-supporting congregation and began supporting several outside mission projects.
As Boulder continued to grow to the south, members of Mt. Zion and Grace planned for the opening of a new mission congregation.  Mt. Hope was organized in 1964 and by 1966 they had installed their first pastor.  Just prior to Mt. Hope's opening, attendance at Mt. Zion was over 400 each Sunday.  About 100 members transferred to the new church.
In 1969, a second building expansion was dedicated with added space for Sunday School classes and new offices for staff members. Changes were made to the congregation's constitution in 1970 which allowed women to vote and hold office.  A Board of Directors was tasked with operating the congregation.
Bible studies were expanded in the early 70's.  Children in grades 3-6 attended the Wednesday School of Religion.  Men and women met on Tuesday evenings for Bible study.  Over 350 women of the church and community gathered at Mt. Zion on Wednesday morning for Bible study under the sponsorship of Bible Study Fellowship.  In 1974 the congregation purchased a new Allen digital organ.  In 1976 Curt Genzlinger became the second full-time member of the staff, serving as Minister of Youth and Education.
Over the first 20 years of its existence, Mt. Zion was an "outreach congregation."  Bible study programs included Project Philip, Crossways, and BSF.  Dial-the-Answer was a phone recording to show the plan of salvation to members of the community.   Property was purchased in North Boulder for a future mission congregation.  The annual Vacation Bible School consistently reached children who had little or no church connection.  Mission funds were contributed to evangelistic organizations and the congregation was among the top congregations in per-member giving to Missions.
In 1984, after serving as Mt. Zion's first and only minister, Pastor Rhode retired and the congregation once again sought God's direction in finding his successor.  In June, Rev. Neil MacLachlan of Brainerd, Minnesota accepted the Call and moved to Colorado.  In August the congregation honored Pastor Rhode for his 28 years of service with a special reception.
After careful study, the congregation decided to open a preschool and called Gwen Marshall to be the first director and teacher.  She was installed in August, 1986 and the first classes were held that fall.  October marked the 30th anniversary of the founding of the congregation.  Additional classes and teachers were added and by March, 1988, it was decided to add kindergarten and child care programs.  The City of Boulder approved Mt. Zion's request to expand to a full elementary school and Stephen Ott accepted to call to be principal and teacher of the school.
In 1995, after a year without a principal, Mrs. Cheryl Wu agreed to serve as both principal and early childhood director.  Planning continued for a building expansion which would add classrooms, lunchroom, offices, and a full size gym to the campus.  The capital campaign for the building program began in January, 1998, and loan approval came in June.  The school addition was completed in the summer of 2000. 
Pastor Mac announced his retirement and conducted his farewell service in November, 2000. After an extended interim, Rev. Allen Anderson accepted the call to become the third pastor of Mt. Zion and was installed in May, 2002.  In 2005, the congregation celebrated 50 years of ministry and these closing words were written in the anniversary booklet:
"Looking back on Mt. Zion over the years, numerous changes have occurred: Pastors, church leaders, organizations, and the building itself.  One thing hasn't changed, however.  In the words written for the 10th anniversary celebration: 'Our goal to spread the word of God has not changed; our confidence to complete the good work has not withered.'"
Praise and Thanksgiving
Fifty Years of Mount Zion
-Becky Dimock, Delores Rhode